How to Start a Successful Dropshipping Business in South Africa
In this post, I will show you how to start a successful dropshipping business in South Africa. If you are reading this post, it's certain that you need an alternative way of making money online in South Africa.
--Advertisements--
Dropshipping is a very lucrative and profitable online business that you can start in South Africa this year. Many South Africans are scared of starting an online business due to the startup cost. The dropshipping business model does not involve all those stress as you'll get to know.
As an entrepreneur, starting a dropshipping business could be a great start. You'll be able to sell products to customers, set your own product prices and market your own brand without actually owning any of these products. In fact, in the actual sense, you don't bear the burden of shipping these products to your customers.
In this article, we're going to teach you how to start your own dropshipping business in South Africa. We'll try out best to cover every related topic with regards to dropshipping. We'll look at the pros and cons of starting a dropshipping business and also a step by step guide on how to get started in South Africa.
What is Dropshipping?
Dropshipping is an online business model where you get to sell products that you do not actually own. Instead, when your customer places an order, your chosen supplier ships the products directly to your customer.
The dropshipping business model enables a business to operate without maintaining inventory, owning a warehouse to store their products or even having to ship their products to their customers themselves.
How Dropshipping Works
How does the dropshipping business model actually work?
1. You get to post your products on an online platform (for example your own website). You don't own these products, you only take pictures and descriptions from your chosen supplier.
2. A customer gets interested in your products, places an order and pays for it.
3. You contact the supplier who stocks these products, and you place the same order as your customer.
4. You ask the supplier to deliver the order to the address of your customer.
5. The customer receives the order and the deal is completed.
--Advertisements--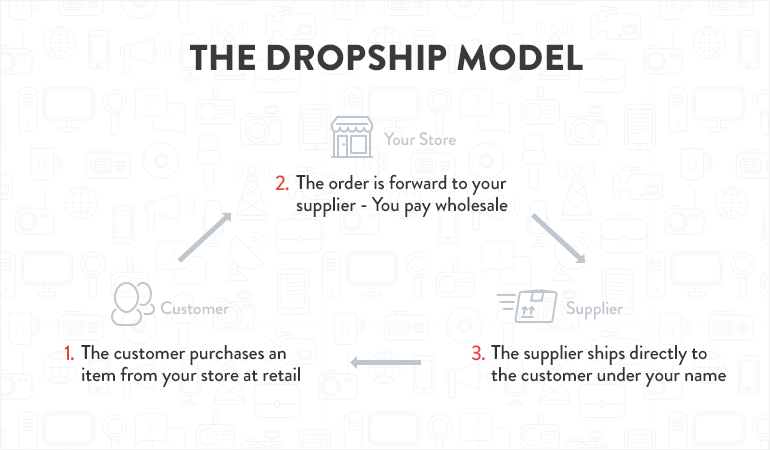 Advantages of Dropshipping Business
The dropshipping business has numerous advantages over the normal conventional retail store.
1. You do not bear the shipping cost of products. This is handled by your supplier.
2. You save a huge sum of money as you do not need to pay for an inventory of a warehouse.
3. The startup cost is very minimal. You might only have to bear the cost of your eCommerce website and internet connection.
4. You can sell as many products as you wish and you can easily add or remove an item from your catalogue.
5. Finally, most dropshipping services will allow you to provide your own labels, so your customers don't even need to know you're a drop shipper.
Disadvantages of Dropshipping Business.
1. Low-profit margins: The biggest disadvantage of operating in a highly competitive dropshipping market means lower margins. Because it's so easy to get started with low overhead costs, many merchants will start their store with super low prices in an attempt to quickly grow revenue.
2. Shipping and returns: If you're using more than one supplier, as many drop shippers do, this can complicate your shipping costs as they can vary from supplier to supplier. You also lose control over shipping quality and speed.
3. Lack of visibility: When you work with suppliers you are also outsourcing some of your customer satisfaction. Someone else is building and sending out a product which is a huge part of the overall customer experience. If anything goes south on the supplier's end, the customer will blame you.
How to Start a Dropshipping Business in South Africa
Before you start a dropshipping business in South Africa, you need to think of the most appropriate payment gateway for your business. Also, you need to know how to deal with suppliers and have your products shipped faster.
What kinds of products should you dropship? And if you're thinking of dropshipping internationally, then you should be aware whether or not you have to pay tax or register your company.
Lastly, you need to understand if are you going to pay a customs tax on all the product you're dropshipping in South Africa especially if you'll be importing them.
Having said that, let's go straight to show you a step by step guide on how to start a dropshipping business in South Africa.
1. Choose a Niche
Before you start the dropshipping business, you need to carry out research just like every other business model. You need to do thorough research and business strategy on how to be profitable in your business.
First of all, browse other popular stores to look at their offerings, best selling lists and promoted products.
Another thing you should have in mind while choosing your product is that you can't just start selling any product you see. You should focus only on demanded products that show positive or at least stable trends.
I recommend you use Google Trends to get a better idea about the selected niche. Importantly, endeavour to check every possible product category that you are going to sell.
2. Find a Reliable Supplier
The choice of a reliable supplier cannot be over-emphasized in the dropshipping business. In fact, doing business with the wrong supplier can ruin your business. This is simply because they are the owners of the products that you're selling.
It is safer to look at the quality of available suppliers before making your final decision. This step is very important because without a reliable supplier there won't be a product for you to dropship. So you might as well take them seriously.
One of the most trusted names in dropshipping is AliExpress.
They're the pick of over 80% dropshippers in South Africa. They have a large stock of goods and their products are relatively cheap compared to other online outlets. Also, on AliExpress, you should choose suppliers with, at least, a 90% score rating.
However, using AliExpress also comes with its own challenges! Which of course is the issue of AliExpress long shipping time.
--Advertisements--
3. Choose a Selling Platform
This is a very important part of starting a dropshipping business because it determines how your website is going to look to your customers. Now, I will only list two platforms in which you can build your store.
WordPress
If you are going with WordPress, you need to buy a unique domain name and a web hosting account to host your web store.
Once these two are ready, you then install WordPress from your Cpanel. Thereafter, install e-commerce software (WooCommerce plugin) on your website.
This can be done through one-click installation. And after that, you can start tweaking the website to your taste. Once everything is set up, then you need to get the Dropshipping Plugin. This will help you run an effective dropshipping business.
Shopify
Shopify is a self-hosted platform and a website builder that allows you to easily build a website under a few minutes. You can create a store under 30 minutes and start selling any kinds of products you want to.
This is one of the best platforms for dropshipping if you are a newbie or even a professional. It allows you to focus on your business by branding and marketing your products while they manage your store for you.
The good thing is they offer a 14days trial. You can set-up your store in a day and start marketing immediately for the first week.
With this, it's possible to make profits within the 14days and pay your subscription even before the trial expires.
But then, just because I said so, doesn't mean you can!
I will recommend Shopify for those with no experience with WordPress as Shopify is relatively easy compared to WordPress but more expensive.
4. Promote your Business
This is where you need to work and invest the most. Without awareness, nobody will patronize your store. You can't just sit down and expect customers to come and buy from your store.
You have to make that happen by taking your business to them. Having a great product description on your site does not equate to sells if you don't market your business. The best place to market your product is through Facebook and Google Merchant.
To get started with a Facebook advert, create a fan page after your domain name and create a Facebook business account to run your advert.
TIPS: When running your Facebook ad, choose one of your cheapest products to drive traffic to store. Once they make their first purchase they will naturally come back.
Other means is by collecting their emails upon sign-ups and send marketing emails on new products or discount offers on existing products.
Instagram ads and Instagram influencer do a good job in marketing dropshipping products too, you can as well check them out.
5. Earn Money with your Site
To make things easier and convenient for you, I recommend the AliDropship Plugin.
What it does is that it helps you to import product descriptions, photos, etc from your supplier website to your store.
--Advertisements--
This can be done with just a click and when a product is sold on your store, it automatically sends the customer details to your supplier. The only thing left for you to do is to pay the supplier.
After that, the supplier then ships the product to your customer address without questions asked and your customer won't know the product is from a third party.
Importantly, when ordering on AliExpress, it's good to let the seller know you're dropshipping. This way, the supplier won't include any invoices or promotions in the package being sent to your customer.
On checkout, you can leave a message for the seller like: "We're dropshipping. No promotions and invoices, please!"
Conclusion
Dropshipping is a lucrative and popular online business model for new entrepreneurs, especially in South Africa. It's easy to start, however, expect competition as the business is getting popular every day.
The above guide will help you to know the necessary steps you need to launch your own dropshipping business from scratch but to be extremely successful, you need to constantly innovate in your varieties of products, pricing, marketing and methods of delivery.